Don't take a gamble on your wagering ads. Top tips for advertisers.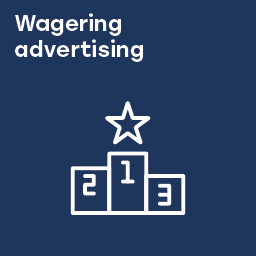 Despite border closures and COVID restrictions, the final few months of 2021 have delivered some exciting sporting events including the NRL and AFL grand finals, and the beginning of the spring racing season. While these are key events in Australia's sporting calendar, they are also the reason why we may see an increase in wagering advertisements, especially on TV.
 
While licensed operators can legally advertise wagering products and services in Australia, there are strict rules in place to ensure that wagering advertising is delivered in a responsible way. This includes the rules set out in the AANA Wagering Advertising and Marketing Code.
 
Here are our top tips to keep your content in line with the advertising rules:

Don't use imagery that might interest children
There are many ways to creatively advertise wagering products and services, but care needs to be taken when using animated or cartoon-like imagery.
Licensed operators run the risk of breaching the AANA Wagering Advertising and Marketing Code if the visuals used primarily appeal to minors. This is also applicable to wagering ads using well known licensed characters such as superheroes and celebrities that particularly appeal to minors.
Don't show excessive participation
Showing someone regularly engaging in wagering, for example as a routine weekend activity during a sporting season, won't be seen as excessive participation. However advertisers can accidentally breach this rule by:
showing people wagering beyond their means
suggesting that prolonged wagering improves a person's skill in wagering
implying that wagering takes priority in a person's life over their family, friends or job.
An example of this final point is a TV ad which showed tradesmen sitting at a jobsite placing bets on a wagering app instead of doing their jobs.
Choose your talent wisely
Err on the side of caution when selecting your talent. Young looking people can be incidental to the advertising but should not be depicted as actually engaging in wagering. Make sure anyone engaging in wagering is (and looks) over the age of 25.
Follow the other advertising rules
While it's important for advertisers to meet the requirements under the AANA Wagering Code, don't forget about the other advertising rules.
 
Of the 13 wagering related ads the Community Panel has looked at so far this year, nine of them have raised issues under the AANA Code of Ethics. These issues range from discrimination on the basis of race, to concerns around the exploitative or degrading depiction of women.
When in doubt, ask for help
If you have any concerns that your content might not align with any areas of the advertising codes, you can submit a request for Copy Advice on the Ad Standards website.
We can provide you with fast and confidential guidance about potential issues in your content and the best way to go about fixing them. We accept requests for all new concepts, imagery, copy and campaigns prior to publication, broadcast or public release.
Comply with the other wagering rules and laws
Wagering ads are heavily regulated in order to protect vulnerable groups and keep these types of ads socially responsible. Other regulatory bodies who look at the promotion of wagering and gambling ads include:
It's important to note that consumer complaints about the timing and frequency of gambling ads should be directed to the broadcaster or medium the ad appeared on.