Ethics, taste and decency in advertising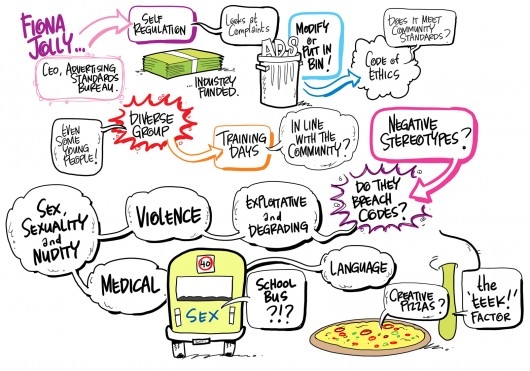 The Australian Communications and Media Authority (ACMA) is running a series of forums, the Citizen Conversations Series, to discuss issues relating to media and advertising.   Advertising Standards Bureau CEO, Ms Fiona Jolly, spoke at yesterday's session on ethics, taste and decency in advertising.
Ms Jolly discussed the Codes and Initiatives considered by the Ad Standards Board and how it maintains community standards in advertising. In particular a recent addition to the Code of Ethics, a section on exploitative and degrading advertising  was outlined by Ms Jolly. The session also included discussion of diversity of the Ad Standards Board with members ranging in age, gender, culture, beliefs, educational background and occupation representing the diversity in Australia. Examples of advertisements breaching these guidelines were shown to demonstrate the line of unacceptability in community standards of advertising. A post-event interview on classification and decency with Ms Jolly outlines how the Board keeps up with changing community values.
ACMA is calling for industry and community opinions on broadcasting codes of practice to assist in modifying codes to suit changing community views. Get involved in shaping the broadcasting codes by providing your feedback on standards.
Image provided by ACMA.