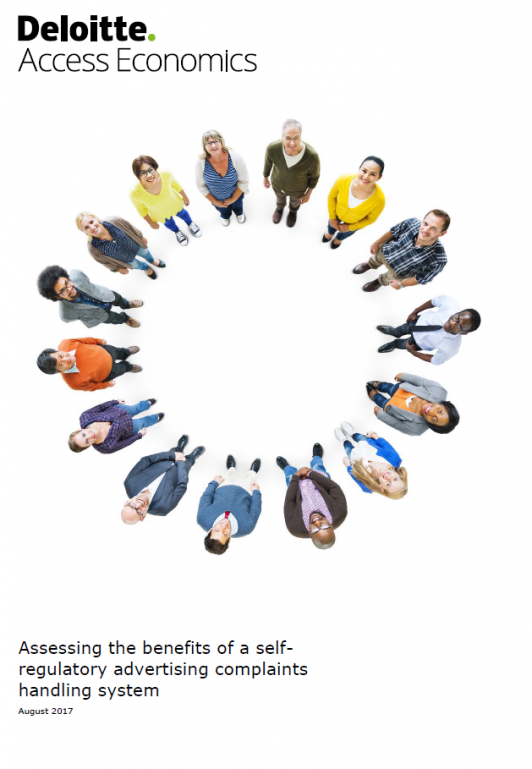 Effective and in the best interests of Australian consumers
Positive findings about the efficiency, responsiveness and cost effectiveness of the work of the Advertising Standards Bureau have been released in a report from Deloitte Access Economics.
"In terms of responsiveness the cost effectiveness analysis report says the ASB has shown it can quickly adjust with the evolution of the advertising industry," Mr David Scribner, Chair of the Advertising Standards Bureau Board said.
"This finding is a welcome confirmation of our commitment to maintain our system in line with world's best practice principles.
"We are extremely pleased that our efforts have been objectively assessed and found to be a benefit," Mr Scribner said.
Mr Scribner said other findings relating to cost, efficiency, compliance and effectiveness were also welcome.
The report focused on the differences between self-regulation of complaints handling and direct government regulation, finding that the self-regulatory approach achieves similar outcomes to government regulation in compliance and effectiveness, and performs better in terms of cost, efficiency and responsiveness.
In comparing the self-regulatory complaints system with this hypothetical, Deloitte Access Economics found:
Cost: It is likely the ASB requires a lower budget than a government regulator with $1.02 million in salaries compared to $1.42 million.
Compliance: The ASB and the government perform equally well with high compliance rates.
Efficiency: ASB handles the majority of cases (99.8%) in less than three months while a reasonably comparable government regulator completes most (97%) within six months.
Effectiveness: The ASB and a government regulator both score reasonably well in terms of complainant and stakeholder satisfaction with the system.
Responsiveness: The ASB appears to be relatively more flexible in its ability to regulate new mediums emerging in advertising such as social media.
Ms Fiona Jolly, Chief Executive Officer of the Advertising Standards Bureau, said the report also highlighted that the ASB administers a system with a very high level of consistency.
"Our processes allow for single handling of complaints from across Australia, which provides not only for consistent process but application of the Codes on a national basis across all forms of advertising.
"This in turn allows the ASB to work more quickly than a government system and ensures that advertisers and consumers face the same process and meet the same community standards nationwide, which was another finding made in the report," Ms Jolly said
In its conclusion Deloitte Access Economics found that:
Self-regulation of complaints is more likely to be effective than direct government regulation across the dimensions of cost, efficiency and responsiveness, and in some part more effective.
The current self-regulatory complaints handling system for community standards in advertising appears to be working effectively and in the best interests of Australian consumers.