Distinguishable advertising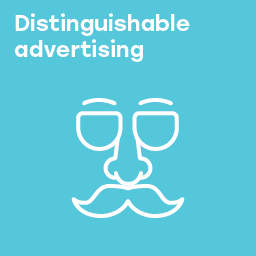 This information provides a general overview of Ad Standards Community Panel determinations on complaints about distinguishable advertising.
It is designed to assist the advertising industry, the self-regulatory body, consumers and others interested in ensuring that advertising does not breach the AANA Code of Ethics or community standards regarding distinguishable advertising.
It is not a "how to" guide, nor does it cover all situations which require care in understanding elements of distinguishable advertising.
Relevant section of the AANA Code of Ethics
2.7 Advertising or Marketing Communications shall be clearly distinguishable as such to the relevant audience.
Definition
Relevant audience is applicable to the restrictions on treatment of sex, sexuality and nudity, language and clearly distinguishable advertising. Relevant audience is informed by the content of the advertising or marketing communication as well as other material that may be provided by the advertiser including classification material, audience measurement data and the media placement plan, to determine the audience that the advertiser intends to see the advertising or marketing communication.
Level of community concern
Community concern about distinguishable advertising has been reflected in complaints to Ad Standards.
In 2018 distinguishable advertising accounted for 0.41 per cent of complaints to Ad Standards.
Ad Standards commissioned research into this issue and published a comprehensive research report on the matter in 2018.
This included the following checklist to help determine what is clearly distinguishable advertising:

Further information
For more information see the AANA Industry Practice Note: Clearly Distinguishable Advertising.