Community awareness advertising and community standards
Recently, we've seen a rise in health-related community awareness advertising aiming to educate Australians on being safe and hygienic during the COVID-19 pandemic.
These sorts of ads are being created not only by government and not-for-profits, but also businesses who seek to play their part in raising awareness and bringing the community together, while also promoting their products and services.
In this new environment, where ads cross the divide between community awareness and brand promotion, advertisers and creatives should take particular care to ensure that the tone and focus of their ads is relevant and sensitive to their audience.
 
Community concerns about awareness ads
In the last decade, the majority of complaints received by Ad Standards about community awareness ads were featured on platforms that reach broad and large audiences such as free-to-air television and outdoor media.
This is due to their visibility by an extensive and diverse audience, which may include children, and their use of confronting imagery or language as a strong call to action.
An example of this is a public health television ad showing hands crawling beneath the skin of a shirtless man while he smokes, which was described as 'scary and quite horrific' by one complainant. The hands begin to restrict his breathing at the end to demonstrate the health risks associated with smoking.
Following the bushfire disaster in early 2020, Ad Standards received complaints about two community service advertisements which raised concerns about graphic images of burnt animals and abandoned pets.
The first was a network-sponsored television ad for a charity promoting a donations appeal which included an image of a koala being rescued from burning bushland. The other was a state government community service ad for bushfire safety and planning.
Complaints about these ads were considered by the Ad Standards Community Panel (the Community Panel) under Section 2.3 of the AANA Code of Ethics (violence).
The Community Panel acknowledged that the ads would be upsetting for some viewers, including children, but considered that the content showed factual real-life scenarios to raise awareness of the issues. Because the overall tone and imagery reinforced the community awareness messaging, both with a very clear call to action, the Panel found that the ads did not breach the Code.
The Panel has consistently had a higher tolerance for the use of provocative imagery and language in public education campaigns because of the important social messages, including health and safety, they convey.
However, in some cases the Panel may still find that community awareness ads are in breach of the Code, especially if the use of controversial content:
is considered not to be relevant to the issue
is at a level that is inappropriate in the circumstances or to the relevant audience, or
downplays a serious issue.
What do advertisers need to know?
Advertisers developing content for community awareness messaging should consider who the target audience is as well as the broader audience who are also likely to view the ad. Advertisers should always ask the question: 'does this content meet current community standards?' to minimise the risk of your ad being complained about.
The imagery shown in an ad should only be used if it is relevant to the ads' core messaging whilst being mindful of the diverse audience who may view the content. By answering some key questions advertisers can help ensure their ads align with current community standards and relevant guidelines.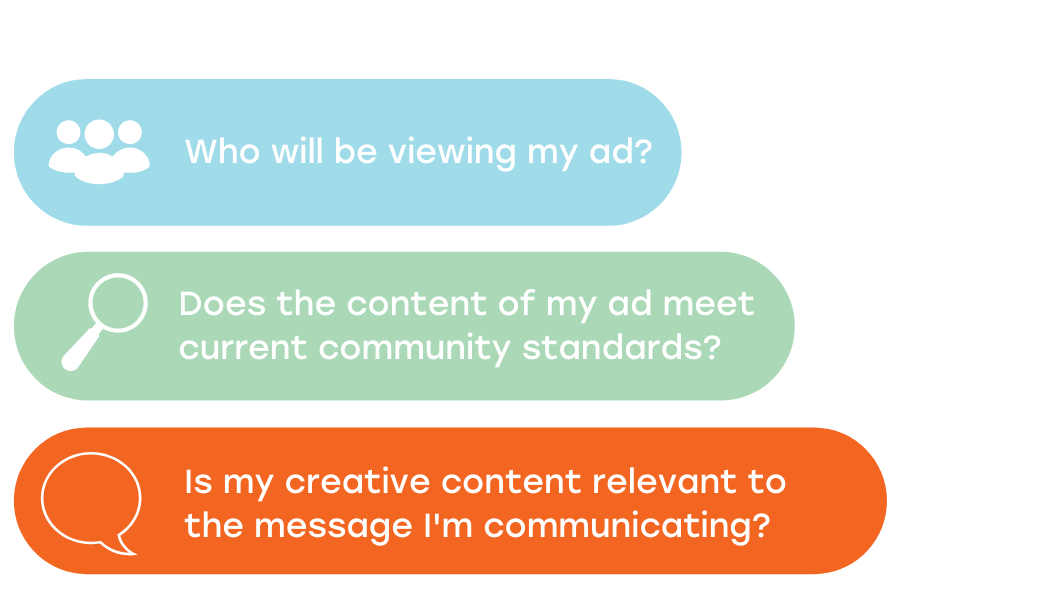 The fastest and most cost-effective way to check whether or not a campaign is likely to meet community standards across the wide range of social issues covered by the advertising Codes and Initiatives administered by Ad Standards is through the online Ad Standards Copy Advice Service.
Advertisers using the Copy Advice Service report significantly reduced risk of misinterpretation of the advertising Codes as any necessary changes can be made ahead of publication or broadcast which saves time and money as well as any potential risk to reputation.
Ad Standards Copy Advice is online and requests for expert advice to help ensure advertising materials attract all the right attention in compliance with the rules can be submitted 24/7.
Additional resources provided by Ad Standards to support advertiser compliance with the Codes includes bespoke training to meet individual advertiser needs, and online training resources about the advertising Codes and the advertising self-regulation system.
Determination summaries providing precedent information are also on the Ad Standards website. Advertisers can also subscribe to receive the monthly Ad Standards Bulletin, and follow @Ad_Standards on Twitter and LinkedIn for more information.