Disclosing advertising content: a how-to guide.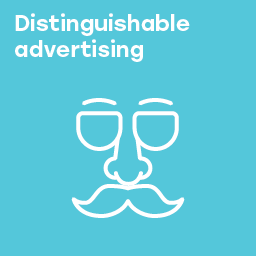 Distinguishable advertising is a hot topic at the moment, so it's important for advertisers and influencers to understand that there are disclosure rules that apply when posting content on social media.

Under the updated guidance in the AANA Code of Ethics Practice Note, influencers and advertisers have a positive obligation to disclose any arrangement with brand owners in an effort to help consumers distinguish between advertising content and user generated content. These rules apply to both timeline posts and temporary content such as Instagram stories. 

Remember it's not just where money changes hands – free products or services indicate a relationship that should be disclosed too.
Below are some easy ways to indicate that a post is part of an arrangement with a brand:
 
1. Use a hashtag.
#Ad is the easiest option, but you can also use #PaidPromotion, #sponsored, and #CommercialPartnership among others.
 
2. Write it in the caption.
Disclosure can be as simple as writing that the post is part of a paid partnership (or other type of relationship) between the influencer and the brand. It doesn't have to be complicated, just clear.
 
3. Say it.
Verbal disclosure is still disclosure so long as the message is clear and easy for the audience to understand. We encourage both advertisers and influencers to also add the disclosure in written form, especially for video content where viewers may not have their audio on.
 
4. Use the platform's capabilities.
Platforms such as Instagram provide a 'Paid Partnership with…' label that can be attached to a timeline post to help audiences identify that a post is sponsored by an advertiser.

Using a combination of any of these is a step in the right direction. If you're unsure of the nature of your relationship with an influencer or brand, err on the side of caution and disclose the arrangement, whatever it is.
 
Ad Standards provides a range of training and education materials for advertisers and influencers to aid them in creating socially responsible and distinguishable content:
 
Submit your creative to our Copy Advice Service.
Ad Standards provides fast and confidential guidance on content at any stage of the creative process before publication. This can help identify potential issues early on in the creative process. We'll also provide advice on the best way to bring these issues into line with the rules. 
 
Request bespoke training.
Ad Standards provides a range of face-to-face and virtual training options to help you better understand the advertising Codes and Initiatives. Personalised training is also offered on request. 
 
Ask for help.
Ad Standards is happy to provide support to advertisers and influencers who have questions about the rules or need some help navigating the relevant Codes and/or Initiatives to ensure their content is compliant.